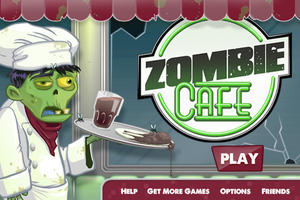 Welcome to the Wiki
Edit
Welcome to the Zombie Cafe Wiki. This is a website about the game called Zombie Cafe that anyone, including you, can edit. Click the edit button at the top of any page to get started!
About Zombie Cafe
Edit
"Raaaarrrrggh!!!!! Come join my hoard of undead chefs in the iOS game Zombie Café as we cook meals and serve customers...for dinner! Available for free on iTunes."
Zombie Cafe is a free game created by Beeline Interactive Inc. It's a casual game about a chef running a café, but your waiters and chefs are zombies! Your job as a chef is to infect customers to turn them into your zombie workers, cook, serve, raid other cafés and have fun. What's a Zombie Cafe without dishes, dishes are the food you cook for the customers to eat. REMINDER: NORMAL PEOPLE EAT ZOMBIE FOOD! If there are no dishes in your café then the customers will be unhappy, lowering your rating. That wraps the basics. See the pages below for more information!
Ad blocker interference detected!
Wikia is a free-to-use site that makes money from advertising. We have a modified experience for viewers using ad blockers

Wikia is not accessible if you've made further modifications. Remove the custom ad blocker rule(s) and the page will load as expected.