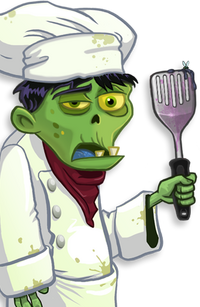 Aitsu (あいつ, meaning "he", "him", "that guy", ...) is the zombie chef that appears in the Zombie Cafe title screen and app icon, and is the one who gives the tutorial, being considered the main zombie from the game. In the English-language version, he is referred as the zombie union rep, which is revealed in the "Help" section of the title screen. In the Japanese version, players can obtain several versions of him in the gacha, and sometimes in events.
Start:
Grragh! Ahem - Welcome to Zombie Café! Use zombies to
cook and serve food while you run your café. Touch your
chef, then the stove to begin.
After following his instructions:
Cooking food takes time, but using our special zombie
Toxin we can finish it instantly: touch the stove, then the
finish button.
When the food is ready:
The food is ready! With your chef selected, touch the food
to move it to the serving counter, then touch the serving
counter to serve the dish.
After the first client finishes eating:
Time to get some help: Touch the customer and touch the
infect button to convert them to a zombie that can help
serve and cook.
First zombie:
It worked! Zombies make good free labor. Now we just
need more tables and chairs to serve more customers.
Touch the shopping bag to open the store.
Shopping:
Every customer will need one chair and one table (two
customers can't sit at the same table). The green boxes
will help show you where to put them.
Continuing:
Now that our stove is empty, you should cook another
dish.

Touching/holding items lets you move them, and if you
drag them into the store you can sell them. Be sure to
leave room for people to move!

It's time to open your cafe! (You can close it later if you
need to). Keep cooking and serving to unlock new stuff
and earn cash.
Open café:
Now that we're open for business, keep the food coming.
By always cooking, you'll always have food to serve
(and earn XP)!
First raid:
We're not the only restaurant in town. Touch the map
icon to see your friends and competitors.
In the map:
Raargh! That café across the street is stealing our
customers with a cheap lunch special! Touch the enemy
café and we'll pay them a visit.
Attacking:
Touch your zombies and then touch the attack button to
send them in to cause mayhem - they can get food, money,
and maybe even Toxin!
If a zombie's energy is low:
One of your zombies is low on energy from fighting! Just
like in your café, you can use Toxin to energize them
instantly. Try it now to save them!
After the battle:
Your zombies took some food from that rival café. Touch
the fridge to view your inventory. From there you can
serve food or save it for friends.

Fridge:
That's a new one! Choose unlock to add newly found
dishes to your recipe book- you won't get to serve it, but
you'll get a valuable recipe.
Rating:
When customers leave happy, you get money. With each
happy customer your café's star rating increases and it
gets more popular.
If a customer leaves unhappy:
Uh oh, customers are leaving because there's no place to
sit. Be sure to have clear paths to every table and chair, or get more from the store.
Daydreaming zombie:
Zombies like this one are prone to daydreaming. You can
touch them and tell them what to do so they'll get back
to work.
Friends:
You can invite friends from Facebook so that you can
raid them too, or order food to save time and get new
recipes.
Attacking again:
After touching your zombies, you can touch things you
want them to attack. To have all your zombies retreat,
touch the flag icon in the top left.

Lost a zombie:
When zombies are defeated, they're not gone - but they'll
need time to reanimate. Or you can fire them (touch INFO)
and infect someone else.
Level 4:
Ugh. Ugly dead plant is making customers unhappy.
Touch and hold it to move it, and drag it to the store
menu to sell it.
Path issues:
Your zombies can't get to something they need to do their
job. Make sure there's always a clear path to the sink,
serving counter, and tables.
If door is blocked:
Grraaaarg! You blocked the door! Make sure there's a
clear path between the serving area, the door, and each
of the chairs.
Food is over:
We've run out of food to serve! Customers will leave
unhappy, and your star rating/popularity will go down.
Cook and serve more food!
Zombie attacking:
Grragh! One of your zombies attacked a customer, and
that's not good for business. Tell zombies to take a break
when they're low on energy.
Zombie break:
Resting will slowly fill zombies with energy over time,
but you can use Toxin to fill them instantly - Try it now!
Food burned:
What's that smell? Not the zombies! If you don't send
finished food to the serving counter soon after it's done,
it will burn and be wasted.
Level 6 reached:
Rarrgh! We need to stay ahead of the hoard! Tap this icon
to check for ways to improve your restaurant. Complete
four tasks, and you'll earn a restaurant review, and a
bonus star. Bonus stars last a long time...much like the
undead!
Level 7 reached:
Did you know you can expand your cafe? Purchase cafe
expansions in the store to make your cafe bigger!
Zombiepedia: (version ? and higher only)
Have you ever wondered about what kind of zombies are
out there? What if you had a go-to book that tells you
everything about all the zombies? Life would be so much
sweeter, wouldn't it? This "Zombiepedia" does just that!
Check it out and learn more about zombies now!
Meat Locker: (version ? and higher only)
Make room for new zombie workers by putting your old
ones in cold storage! Tap on the Meat Locker icon to
access this new feature!
Pets: (version ? and higher only)
You can now have pets. Pets can give your cafe bonuses and help you in raids. (Though they can't serve food!) You can purchase pets in the special tab of the store menu.